Written By: June Bachman ~ 3/17/2018 9:00:00 AM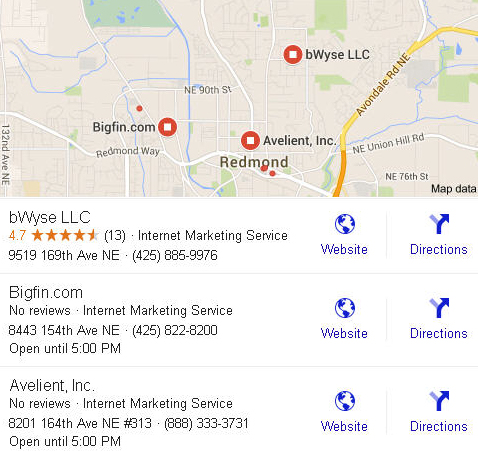 Wendy and I first wrote about the importance of Local Search results about eight years ago. It was at this point in time the smartphone and tablet market began to explode. Round about 2010, the purchase of mobile devices actually surpassed the purchase of PCs. And since then, users accessing the internet via mobile device has continued to grow.
This is important to small businesses, because the search engines on mobile devices tend to present local search results in lieu of the search results presented on a PC. All small businesses must have a strong local search strategy in order to remain competitive, and also to be found via the local search results.
Here are a few things to keep in mind, when working your local search strategy:
Claim and verify your local listings:
Listing your business in the local search engines provides search engines and your potential customers with more and accurate information about your business hours, brick and mortar location, phone number.
Update your listing information with major directories:
Supply as much information as you can to your local business listing. The information you provide sets you apart from your competition, as well as provides helpful information to your potential customers.
Additional Local Strategies:
Business Name – Enter your business name exactly as it appears on your business license. NAP – name, address and phone – information is cross references, and needs to match exactly.
Address - Be complete, specific and accurate. This must be a physical location, PO Boxes are not allowed. Test your address in local mapping webpages such as Google maps, to be sure your address is easily recognized.
Phone Number - Just use your primary phone number - using the numbers - don't use your acronym if you have one. Avoid using tracking phone numbers.
Meta descriptions, directory listing descriptions, taglines - many directories have a link back to your website with a little description. Be sure to describe your business in specific detail and use your primary keyword phrases.
Categories - Think about the best categories and make sure you are listed in the correct category for your business.
Keywords - Use your primary keyword phrases
Services, products, brands - Mention the obvious - spell out what you have to offer to your customers.
Localize your Website:
Additionally, there are localization efforts you can add to your website. Search engines are looking for the following local elements on your website. Make it easy for the search engines to index your site locally:
Add a physical local to each page of your website
Add your local phone number to each page of your website. Include your 800# for your customers and your local phone number for the search engines.
Add your physical address above / before your form on the contact us page
Add a directions / location page to your website.
Be as detailed as possible and include as many location descriptors as you can. For example, ABC Company is located in the Redmond Town Center shopping mall on Redmond Way in the downtown Redmond area of Redmond Washington.
Include driving directions from all possible directions.
Needless to say, we've only begun to scratch the surface of your local search strategy. Check our blog often, as we'll continue to explore additional techniques to employ to improve your search ranking … such as citations, reviews, and more!