N3 Main Event 11/10/2020: Julie Wheeler Lakeridge Insurance
Written By: June Bachman ~ 10/31/2020 9:00:00 AM
Julie is amazing when it comes to Insurance and her guidance is priceless!! No question is too big or to small - her knowledge and understanding of insurance is based on thirty years of experience. If you have ever thought about any aspect of your insurance and wondered . . . then reach out Julie - she will guide you in the right direction.
A COUG at heart, and with a super power of humor, Julie can answer any property insurance questions you may have. Ask her about her most interesting claim ... a new car, attacked by goats! Julie is the type of agent that bases everything on a foundation of education and understanding. It is her goal to ensure her clients truly understand what coverages they are purchasing, as well as their best options. Her specialty is property insurance which includes: auto, home, renters, condo and boat/watercraft.
Ask Julie about her FREE Insurance Policy Analysis and Recommendations. Julie will do a free insurance review to ensure you understand your current coverages!
Julie is the Main Event Speaker at our N3 – No Nonsense Networking meeting.
Feel free to be our guest!
November 10th, 2020 – 7:30 am – 8:45 am
N3 – No Nonsense Networking
Online Zoom Meeting
Email info@bWyse.com to request link to ZOOM MEETING!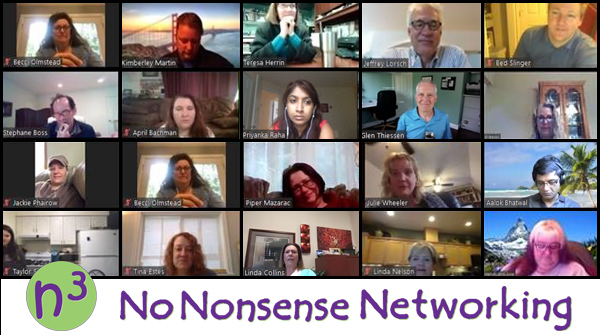 No Nonsense Networking is a business professional networking group in Redmond. We'd love to meet you and learn more about your business! Face to Face professional business networking remains one of the best ways to continue to grow your business!
No Nonsense Networking is about building relationships that foster business connections.
50% Attendance Standard
$50 Annual Fee
Professionally Exclusive
Visit the meetup link to determine if there is an opening for your professional industry!
Email info@bWyse.com to request link to ZOOM MEETING!
Share this post!
---
Multi-part eCommerce Marketing Series: Part 5 BONUS! Tips
Written By: June Bachman ~ 10/30/2020 9:00:00 AM

Our current series is geared towards the efforts you can make to improve your eCommerce online sales. Follow these tips to not only improve your website visitors' experiences, but also gain more online sales!
Multi-part eCommerce Marketing Series: Part 1 Improve Your Website
Multi-part eCommerce Marketing Series: Part 2 Email Marketing Strategies
Multi-part eCommerce Marketing Series: Part 3 Online Marketing Tips
Multi-part eCommerce Marketing Series: Part 4 Social Media Strategies
Bonus Ideas for Your Online Marketing Efforts
Consider Online Advertising
Use your popular Social Media posts to determine what content your users find engaging. When you discover a post with high engagement, consider boosting that post (on Facebook) to increase the reach and exposure of your brand.

Encourage Your Customers to Write Product Reviews
Everyone reads online reviews … and they do have impact. Product reviews as part of your eCommerce website are also very important of your marketing strategy. Online product reviews provide credibility and help convince other customers to make purchases based on user feedback.

Add Online Chat for Your Customers
Adding an online chat feature to your eCommerce website makes you completely available to your prospects and customers. Customers like the immediacy of being able to reach a representative of your company to ask questions. Not to mention, it provides you with the opportunity to close the sale by chatting directly with your prospect.
Reviews by Bloggers and Influencers
Consider donating your products to bloggers with a large following, and/or your industry influencers. This will not only increase the exposure of your brand and product lines to potential customers, but will also serve to potentially influence other writers and editors.
Share this post!
FREE Webinar! Do's and Don'ts of Social Media for Your Small Business
Written By: June Bachman ~ 10/28/2020 9:00:00 AM
TUESDAY - November 10th, 2020
10:00 am - 11:30 am
Social Media Marketing is mandatory for all small businesses. Join Wendy and June of bWyse to learn which platforms are still going strong, what to avoid, and how to leverage Social Media as a vital part of your marketing plan. RSVP to attend our FREE workshop to learn Social Media marketing strategies that produce results!
At the end of our edutainment workshop you will:
Know the most important platforms for your business.
Understand how to manage multiple Social Media accounts.
Have time saving strategies and techniques to use.
Be able to turn your Social Media efforts into results.
and much, much more!
Social Media will CHANGE the way you market to your clients
A Social Media strategy is a great way to promote your small business and your products!

Discover how to change your marketing approach with a social media strategy. Understand the many social media platforms and learn a structure to be able to successfully incorporate social media into your business plan. Leave this fun, hands-on course with a strategy you can implement right away!
Share this post!