N3 Main Event 2/26/19: Dr. Tony Brooks - Structural Chiropractic
Written By: June Bachman ~ 2/16/2019 9:00:00 AM
Dr. Tony Brooks was introduced to Structural Correction methods after serving in the 2nd Ranger Battalion at Joint Base Lewis-McChord. On his last parashoot jump … the shoot didn't open! Traditional medicine insisted Dr. Tony would require back surgery to correct herniated disc injuries and chronic pain. Following his wife's suggest of considering chiropractic care, Tony was so inspired and motivated by his health outcomes that he enrolled at the University of Southern California where he received his B.A. in Biological Sciences and where he began his journey of learning the intricacies of Structural Correction Chiropractic. Tony then moved on to the University of Western States in pursuit of his Doctor of Chiropractic degree and where he continued to expand on his knowledge of Structural Correction.
Dr. Tony is the Main Event Speaker at our N3 – No Nonsense Networking meeting.
Feel free to be our guest!
February 26, 2019 – 7:30 am – 8:45 am
N3 – No Nonsense Networking
Family Pancake House - Redmond
17621 Redmond Way, Redmond, WA 98052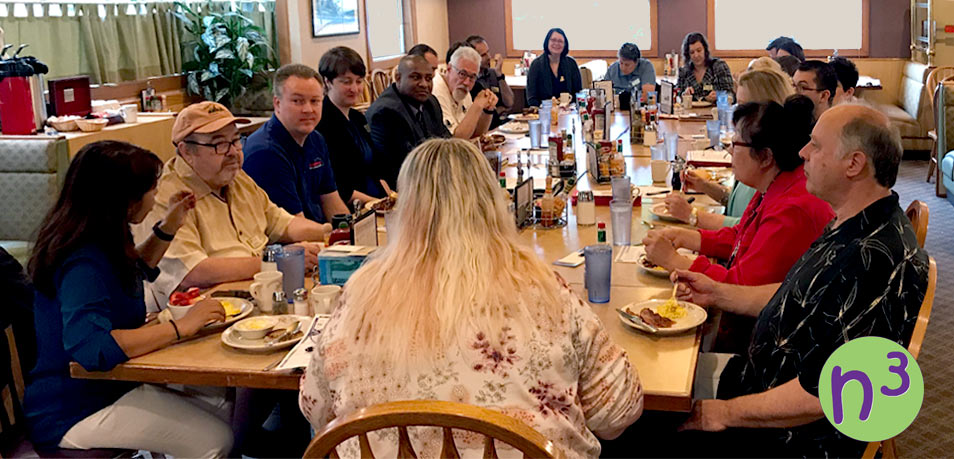 No Nonsense Networking is a business professional networking group in Redmond. We'd love to meet you and learn more about your business! Face to Face professional business networking remains one of the best ways to continue to grow your business!
No Nonsense Networking is about building relationships that foster business connections.
50% Attendance Standard
$50 Annual Fee
Professionally Exclusive
Visit the meetup link to determine if there is an opening for your professional industry!

Share this post!
---
Updating Your Business Plan for 2019 Part 10 - The Appendix
Written By: June Bachman ~ 2/15/2019 9:00:00 AM
Updating Your Business Plan for 2019 Part 1 - Getting Started

Updating Your Business Plan for 2019 Part 2 - Executive Summary
Updating Your Business Plan for 2019 Part 3 - Company Description
Updating Your Business Plan 2019 Part 4 - Products and Services
Updating Your Business Plan for 2019 Part 5 - Marketing Plan
Updating Your Business Plan for 2019 Part 6 - Operational Plan
Updating Your Business Plan for 2019 Part 7 - Management and Organization
Updating Your Business Plan for 2019 Part 8 - Financial History & Analysis
Updating Your Business Plan for 2019 Part 9 - Financial Plan
Don't slow your readers down by cluttering your business plan with supporting documents, such as contracts or licenses. Instead, put these documents in the Appendices, and refer to them in the body of the plan so readers can find them if needed.
Below are some elements many business owners include in their Appendices.
Agreements (Leases, contracts, purchase orders, letters of intent, etc.)
Intellectual property (trademarks, licenses, patents, etc.)
Resumes of owners/key employees
Advertising/marketing materials
Public relations/publicity
Blueprints/plans
Maps/photos of location
List of equipment
Market research studies
List of assets that can be used as collateral
Documents supporting your financial history
You can also include any other materials that will give readers a fuller picture of your business or support the projections and assumptions you make in your plan. For instance, you might want to include illustrations or photos of a product you are patenting or charts showing the projected growth of your market.
After reviewing the Appendices, the reader should feel satisfied that the assumptions throughout the plan are backed up by documentation and evidence.
Share this post!
FREE WORKSHOP: How YOU Can Create Videos for Your Business
Written By: June Bachman ~ 2/13/2019 9:00:00 AM
TUESDAY - February 26th, 2019 7:00 pm - 8:30 am
Microsoft Store at University Village - SEATTLE!
2624 NE University Village St, Seattle, WA 98105
Incorporating video into your website will help you rank on page one of the search engines! Join Wendy and June of bWyse as they outline the strategy and tactics for effective use of video on your website and on your Social Media accounts. RSVP to attend our FREE workshop and learn how to make video blogs, update your YouTube channel and improve your Facebook videos.

At the end of our edutainment workshop you will:
Understand why video is so very important.
Be able to use video on your website.
Know basic editing techniques.
Understand how to work your YouTube Channel.
and much, much more!
Videos continue to be extremely important on the internet. Does your business use video effectively on your website? Do you know how to make quick and easy video blogs? Have you already created a YouTube channel? Don't know where or how to begin?

Join us as we explore the world of video and learn how to create, edit and add videos to your website.
To RSVP

- Email: info@bWyse.com or call (425) 885-9976
Share this post!