FREE WORKSHOP in Seattle - How YOU Can Create Videos for Your Business
Written By: June M Bachman ~ 2/19/2020 9:00:00 AM
Recently, as Wendy and I have been out and about, we've been asked quite often how small businesses can make their own videos. As you know, Wendy has been telling everyone that video is a required element for all websites. Hiring a professional can be extremely expensive for small businesses … so until you're ready to hire that pro – we suggest making your own short videos.
Create a video that adds value
Your video should help your viewer do something better.
Tutorials and demos
Provide useful information your audience can put right into practice
Show the personalities of your employees
Video Ideas
Tell your story. A great way to get people to care about your brand is to tell them your story. Your story can be about how the idea for your product or service was conceived and include the process of getting it to market.
Demonstrate how the product works. Seems obvious … but it is often overlooked. Sometimes we get so focused on marketing the products, we only show the image of the product. Get specific and show how your customers benefit from using the product.
Adding a video to your landing page can help increase conversions from visitors to sales. A landing page is where your other marketing efforts are directing your visitors to go. A clear page where you guide your visitors to take the action you desire - such as fill out a signup form.
And, if you'd like to learn more ... join us for our free workshop!
TUESDAY - February 25th, 2020 10:00 am - 11:30 am
Microsoft Store at University Village - SEATTLE!
2624 NE University Village St, Seattle, WA 98105
Share this post!
---
N3 Main Event 02/25/2020: Julie Wheeler Lakeridge Insurance
Written By: June M Bachman ~ 2/15/2020 9:00:00 AM
Julie is amazing when it comes to Insurance and her guidance is priceless!! No question is too big or to small - her knowledge and understanding of insurance is based on thirty years of experience. If you have ever thought about any aspect of your insurance and wondered . . . then reach out Julie - she will guide you in the right direction.
A COUG at heart, and with a super power of humor, Julie can answer any property insurance questions you may have. Ask her about her most interesting claim ... a new car, attacked by goats! Julie is the type of agent that bases everything on a foundation of education and understanding. It is her goal to ensure her clients truly understand what coverages they are purchasing, as well as their best options. Her specialty is property insurance which includes: auto, home, renters, condo and boat/watercraft.
Ask Julie about her FREE Insurance Policy Analysis and Recommendations. Julie will do a free insurance review to ensure you understand your current coverages!
Julie is the Main Event Speaker at our N3 – No Nonsense Networking meeting.
Feel free to be our guest!
February 25, 2020 – 7:30 am – 8:45 am
N3 – No Nonsense Networking
Family Pancake House - Redmond
17621 Redmond Way, Redmond, WA 98052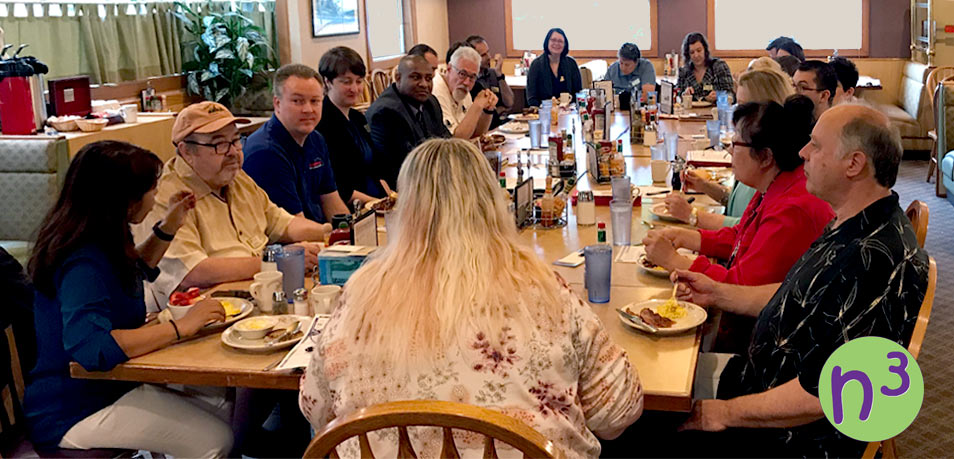 No Nonsense Networking is a business professional networking group in Redmond. We'd love to meet you and learn more about your business! Face to Face professional business networking remains one of the best ways to continue to grow your business!
Please be our guest at our next meeting!
N3 - No Nonsense Networking Meeting!
It's FREE Breakfast Guest Day!
No Nonsense Networking is about building relationships that foster business connections.
50% Attendance Standard
$50 Annual Fee
Professionally Exclusive
Visit the meetup link to determine if there is an opening for your professional industry!

Share this post!
Updating Your Business Plan for 2020 Part 8 - Financial History & Analysis
Written By: June M Bachman ~ 2/14/2020 9:00:00 AM
Updating Your Business Plan for 2020 Part 1 - Getting Started

Updating Your Business Plan for 2020 Part 2 - Executive Summary
Updating Your Business Plan for 2020 Part 3 - Company Description
Updating Your Business Plan for 2020 Part 4 - Products and Services
Updating Your Business Plan for 2020 Part 5 - Marketing Plan
Updating Your Business Plan for 2020 Part 6 - Operational Plan
Updating Your Business Plan for 2019 Part 7 - Management and Organization
Reviewing your business's financial history will help you make more accurate financial projections. Financing and investor resources consider your firm's financial history to assess prospects for future growth.
Show information from the past three years' financial statements as well as the current year-to-date financial statements. Putting all of this financial information into one spreadsheet makes it easy to compare and analyze the financial history. Also enter industry average ratios for comparison.
Include the firm's year-end balance sheets, operating statements and business tax returns for the past three years, along with the most current balance sheet and operating statement.
Debt Schedule
The Debt Schedule table gives in-depth information not usually included in the financial statements themselves. Include a debt schedule with the following columns for each note payable on your most recent balance sheet.
Who to Pay
Original Amount
Original Date
Present Balance
Interest Rate
Maturity Date
Monthly Payment
Security
Current/Past Due
Share this post!