N3 Main Event 10/12/19: Scott McClave - Voya Financial
Written By: June Bachman ~ 10/12/2019 9:00:00 AM
As a former elementary school teacher, Scott uses his teaching skills as a unique approach to counseling and coaching his customers as a financial advisor. As an investment advisor with Voya Financial Advisors in Bellevue, Scott works with his clients to help the set and achieve short and long term financial objectives and strategies to help them reach their financial goals.
Scott breaks down a saving strategy into four buckets:
Liquid Savings
Save three to six months of your monthly budget in a saving account. This is your safety net, or insurance policy should your monthly income be unexpectedly stopped.
Liquid Investments
Investments you will save for at least two and have years. Things like stocks, bonds, mutual funds - these investments generally have a capital gains tax benefit.
Tax Advantage Assets
Investments you will save for ten plus years. These investments are municipal bonds, or life insurance policies.
Retirement Savings
These investments you won't touch until you are 59 and a half years old. These investments are your 401K, 403B, IRAs. There is generally a 10% penalty for withdrawing early.
Scott says, "My goal is to be able to help more people reach financial peace and to retire when they want to and more comfortably. I know finance and how to help, and I'm excited to help anybody get where they want to be. It's intimidating, but it's not as bad as you think."
Scott McClave is the Main Event Speaker at our N3 – No Nonsense Networking meeting.
Feel free to be our guest!
October 22, 2019 – 7:30 am – 8:45 am
N3 – No Nonsense Networking
Family Pancake House - Redmond
17621 Redmond Way, Redmond, WA 98052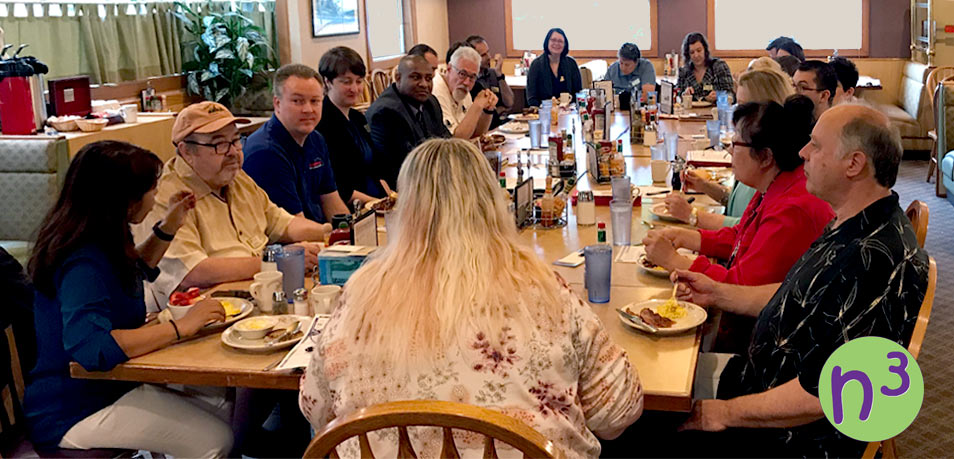 No Nonsense Networking is a business professional networking group in Redmond. We'd love to meet you and learn more about your business! Face to Face professional business networking remains one of the best ways to continue to grow your business!
No Nonsense Networking is about building relationships that foster business connections.
50% Attendance Standard
$50 Annual Fee
Professionally Exclusive
Visit the meetup link to determine if there is an opening for your professional industry!

Share this post!
---
Multi-part eCommerce Marketing Series: Part 2 Email Marketing Strategies
Written By: June Bachman ~ 10/11/2019 9:00:00 AM

Our next series is geared towards the efforts you can make to improve your eCommerce online sales. Follow these tips to not only improve your website visitors' experiences, but also gain more online sales!

Multi-part eCommerce Marketing Series: Part 1 Improve Your Website
Create a Consistent Email Marketing Strategy
Email remains the absolute best way to communicate on a routine basis with your customer base. This strategy continues to generate more sales directly, and increases your revenues. Use MailerLite to get started. A free, fully robust bulk email system that is simple to use.
Make It Easy for Customers to Sign Up for Your Emails
Be sure to always offer something of value to not only encourage, but also reward your customers for signing up for your emails blasts. It could be a small sample product, or a 10% off your order reward.
Personalize Your Emails
Personalization is adding your customer's name into the subject line and body of the email that you send out. This will help increase your open rates.
Additionally, be sure that you are associating the "faces" of your business with your brand. Include images and videos of you and your team. Show how you make your products. Including these little personalized touches helps your customers know you better, and also feel special.
Don't Forget about All the Emails You Send
eCommerce businesses send a lot of emails to their customers; including: confirmations, receipts, shipping, and thank you emails. Don't forget to not only personalize these emails, but also include opportunities for up sales, resales, and share with a friend offers.
Additionally, if you track personal information about your customers, you can send special birthday or anniversary email specials to your customers.
Share this post!
FREE WORKSHOP - 16 Ways to Market Your Website for No Cost!
Written By: June Bachman ~ 10/9/2019 9:00:00 AM
TUESDAY - October 22nd, 2019
10:00 Am to 11:30 am
Microsoft Store at University Village
2624 NE University Village St, Seattle, WA 98105
Just email info@bWyse.com to RSVP!
At the end of our edutainment workshop you will:
Be able to guide the visitor's experience through navigation
Know how to leverage local search.
Understand how to gain link popularity.
Be able to manage email marketing.
And much, much more!
You can market your website for low or no cost!
To RSVP - Email: info@bWyse.com or call (425) 885-9976
Share this post!