Written By: June Bachman ~ 3/5/2016 9:00:00 AM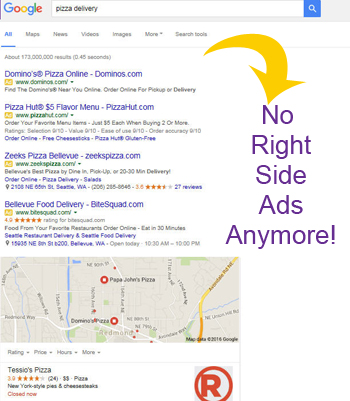 Google Changes AdWords placement: The right hand column of ads is now gone. Three or four ads will show at the top of the search results page, and sometimes, at the bottom three ads will also be displayed. This change reduces the previous eleven ads displayed on the page to a maximum of ads.
This change has the following potential impacts to AdWords Advertisers:
The same amount of advertisers competing for fewer ad spaces means the prices for these ads will go up.
AdWords bidding strategy forces businesses to bid higher, to be ranked in the top 3 ad positions.
If your business is able to afford the higher prices, you may reap the benefits of more traffic and subsequently more conversions through your AdWords Advertising campaigns. (Early analysis has resulted in as much as a 15% increase in traffic in the 3rd paid position.)
As Pay Per Click advertising increases in cost, Organic Search Engine optimization becomes even more important to small businesses.
With Ads and local search results dominating the top of the page, at best only one organic listing will be displayed above the fold. This also increases the competition for organic search results.
Product Listing Ads, are still being displayed on the right column of the search engine results pages. The change to AdWords will make the product listing ads even more valuable to small businesses than before the change.
Bing Advertising remains another option. Bing has not changed its right hand column for pay per click advertisers.