Written By: June Bachman ~ 9/22/2014 9:00:15 AM
Often times our clients reach out to us for help making their emails more branded for their business. Here is a brief overview of the steps to follow when creating a signature block using Microsoft Outlook.
In your Outlook go to File + Options.
Then select Mail – from the left menu, and Stationary and Fonts from the right side, center.
Select Email Signature tab at the top. You need to add the image as a signature … there doesn't seem to be a way to customize your own background theme.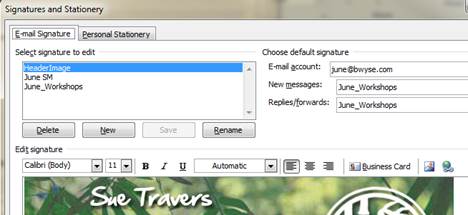 Click the NEW button and create a name for the new signature. I called it HeaderImage.
Then, click in the editor box (the big white box) and then select the mountain icon to add the header image from your computer.
After you've added the image, in the upper right hand corner, select the email account for which you want to use the header. Then for New Messages select the name you created in the first step. Select OK and then when you compose a new message from that email account, the header image will be near the top of the email you are writing.