Written By: June Bachman ~ 8/26/2023 9:00:00 AM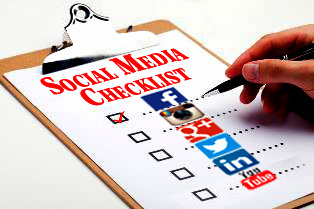 It hard to get it all done when it comes to Social Media Marketing. Hopefully, the following checklist will help out.
Four Times Each Year ….
Set goals for your Social Media efforts. What do you hope to achieve from all of the effort and energy you invest in your social media marketing?
Examples:
Increase Facebook likes by 100 new likes each month
Increase YouTube video views by 25 each month
Increase Pinterest shares by 10% each month
Every Month ….
Review the analytics for each of your social media platforms. Are you on track for achieving your quarterly goals?
Send reminders to your networking partners reminding them to share your posts and social media content with their networks.
Brainstorm a list of the topics you'll write about and post about each week. Find the research, images and content now. It is much easier to stay on track with posting when you already have the plan in place.
Every Week ….
Set Google alerts to notify you when your brand is mentioned online. This way you'll always have a chance to not only thank those who are saying good things about your brand, but also deal with issues right away.
Search for and invite others to like your Facebook page, follow you on Twitter or Pinterest, join your YouTube channel. Pick a different platform each week and target that platform for growth. It is a continuous effort to grow your community.
Schedule your posts from your planning calendar. In many social media platforms you can schedule when your posts are added to the streams. This will help you stay on track with continuous, regular posting.
Write and post a blog to your site. Not only will this make the search engines happy … it generates great content to distribute via your social media channels.
Each and Every Day ….
Realistically, two, maybe three times per week.
Always respond to messages you receive from your social media networks. Be sure all each social media platform's setting is set to email you, when someone engages with you via social media.
Twitter – It is ok to post up to as many as five times per day on Twitter. Schedule similar tweets at different times throughout the day – to reach a higher percentage of your followers.
Facebook – It is ok to post up to twice per day on Facebook. But please make sure they aren't posted back to back. Make sure there is some time between your posts. As with all posting, remember the 80-20 rule: 80% of the time post something of value, 20% it is ok to be promotional.
Google+ - It is ok to post up to three times per day on Google+. Google+ posts do appear in search results, so this is another way to increase your brand exposure not just via social media, but in general a well.
Pinterest and Instagram – It is ok to post more often if you are in an industry that is supported by great photographs – such as food or home décor. However, those industries that are less photogenic can post less often.
What tricks and strategies do you use to help keep yourself on track when it comes to your Social Media Strategy?