Written By: June Bachman ~ 12/17/2022 9:00:00 AM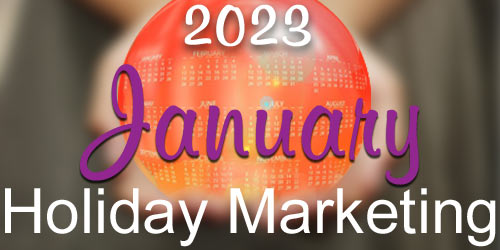 Generating content for your blog and social media posts is always a challenge for everyone … even for Wendy and me at bWyse. One idea for inspiration it to look at not only the "holidays" and special days of appreciation that occur during a specific month; but to also consider organizations who choose to bring more awareness to their causes during a specific month.
Here's a list of what other will be calling attention to during the month of January 2023. We encourage you to review the list to determine where you may find inspiration and connection with your own small business to help find and write content for your blog, as well as your social media posts during January!
Awareness of Causes …
Cervical Health Awareness Month
Eye Care Month
Family Fit Lifestyle Month
Financial Wellness Month
Get Organized Month
International Brain Teaser Month
March of Dimes Birth Defects Prevention
National Glaucoma Awareness Month
National Staying Healthy Month
National Volunteer Blood Donor Month
Thyroid Disease Awareness Month
Walk Your Pet Month
Specific Days of Celebration, Appreciation and Holidays …
January 1 - New Year's Day
January 16 - Martin Luther King Jr. Day
1st - Polar Bear Plunge Day
1st - World Day of Peace
2nd - Science Fiction Day
9th - Law Enforcement Appreciation Day
9th - National Take the Stairs Day
14th - Dress Up Your Pet Day
15th - Hat Day
17th - Ben Franklin's Birthday
18th - Winnie the Pooh Day
19th - Popcorn Day
20th - Inauguration Day
21st - National Hugging Day
23rd - Pie Day
24th - Compliment Day
24th - Peanut Butter Day
26th - Spouse's Day
27th - Chocolate Cake Day
28th - Have Fun at Work Day
29th - National Puzzle Day
31st - Backward Day