Written By: Jackie Phairow ~ 6/4/2021 9:00:00 AM
Who are you?
Who are you selling to?
Why should they buy from you?
This is the basic formula for a good About page, but which one of these questions is the most important? All three of them are important, but if you really want people to hire you they have to know, like and trust you. The only way to convey that is to answer the first question with as much impact as possible using the least number of words.
Humans are visual creatures and they tend to make a first impression of you and your business in a split second. Your audience will look at all of the images on your About page. If they like what they see they will then continue to read the words that you have written. Being a professional photographer, I know a little something about the visual world and how our brains interpret it. Posing people is a big one. The brain will see a missing limb if your photo is cropped in an unflattering way even if the limb is clearly still there. The brain interprets it as missing. You can convey a lot of little details into one image.
The brain in our head works on association and it makes big leaps to connect the dots of what we see with what we know. Our brains are designed to focus on the imagery BEFORE reading the wording on a website. Deep in our brains images are stored in long-term memory and text is stored in the short term memory. Since Images register in our brains so much faster than words do and are directly stored for later use, your About Me page can say a lot about who you are, what you're selling, and why they should do business with you just a few seconds after your page pops onto their screen.
Let's go over a few About Me page photos and explore how easy, fun and impactful your About Me page can be with just a few very well thought out images.
Meet Justeen. She's a hard working lady who believes in her dreams while keeping things down to earth and easy going.

Let's break this image down.
Firstly, I get the feeling that she's hard working because she's sitting in front of her computer working. Secondly, I see that she believes in her dreams because the mug placed in the foreground is slightly blurry to not draw too much attention but it is still very readable. It says "She believed she could, so she did!" This leads me to believe she is not afraid to do what it takes to reach her goals and dreams. Lastly, she is sitting on the floor at her coffee table. This portrays that she is easy going and down to earth. is a grounded person who is surrounded by organizers and planners. I feel like I can trust that she will be on time and well organized if I do business with her. Justeen is a loan consultant with Caliber Home Loans but this image is saying so more than that. It's letting us know about her work ethic and personality.
Keeping a casual down to earth look on your About page, is my favorite way to create a good first impression. People are human and having an approachable image on your About page creates an instant relatability with your audience.
Meet Mind and Tim. They are a loving couple that are great at balancing hard work and hospitality. They have opened up an apothecary in Snohomish called Snohomish Apothecary and they want to welcome all their neighbors to drop by to check out the amazing array of products they carry.
Let's break this image down.
Firstly, they have their arms around each other and they look very comfortable with each other. This let's me know they are loving and supportive towards one another. Secondly, they are dressed casually but are running a wellness center. This tells me that they are hard working and at the same time they will treat you like family when you walk in the door. Thirdly, the location and name of the business is on Tim's t-shirt. This lets me know exactly where they are without having to actually write it anywhere. Lastly, they have very welcoming smiles and the store featured in the background has shelves that are stocked with an assortment of products so I am sure to find what I am looking for there or if they don't have it in stock they could figure out how to get it.
Having images taken at your place of work is a great way to showcase what you do in a subtle way. Remember the About page of your website is where you are mainly trying to sell yourself first and your products or service second.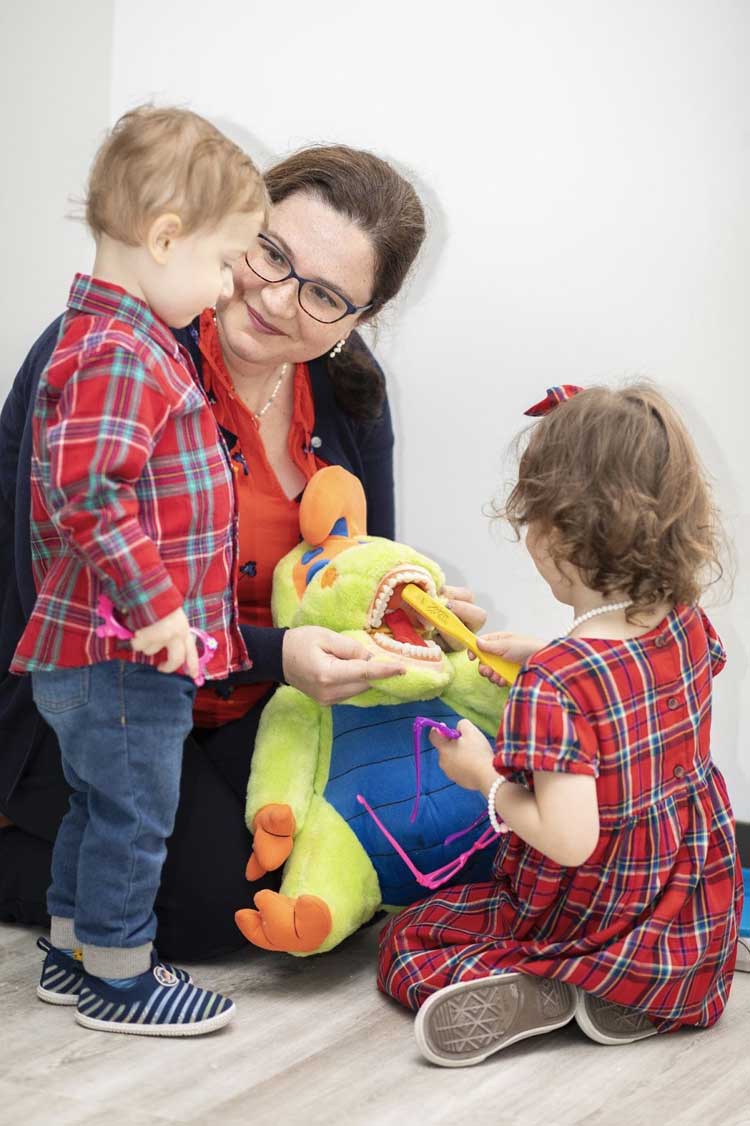 Meet Dr. Ilona Furman of All Smiles Family Dentistry. She's a loving mom and a dedicated family dentist who loves taking care of everyone's smiles!
Let's break it down.
Firstly, those are her two adorable kids. Showing the mom side of her life will resonate with her ideal audience, other mom's. Moms are usually the main caretakers of the family which means they make all the family appointments. Secondly, being a mom is hard work. Showcasing her kids and her dentistry lets us know she's dedicated to her job and her family. Lastly, using a cute dentist toy to show kids how to brush their teeth means she's fun and loves to make sure everyone has a good time.
Having your family featured on your about page is a great way to connect with your audience. Moms are drawn to other mothers and dads can relate to other dads. Being a parent means you are already part of an unspoken club and this means you can use that to be more relatable.
If you're not a part of the parent club, find a different club. Sports fans love all things sports. If you're a fan, put that jersey on and let the world know. There are an endless number of hobbies you can use to build an audience that can relate to your business.
I know you're dying to know what my About page looks like. Well, I'll break down the images on my About Jackie page just for you. Feel free to open it up into another tab. Firstly, I wanted all of my portraits to be very high contrast to the theme of my website. My background is white, so I went with a black velvet backdrop, studio lighting and darker clothes. I also like the way my blue eyes stand out in the dark and I wanted to make them pop. They are what I use to see the world and I want to make sure my audience knows that I see them. Secondly, I wanted to showcase my camera because I feel the most comfortable with my camera in my hands. I am a photographer and I know the more comfortable people feel, the better their portraits come out. My camera creates my art and helps me see the world from a whole new perspective. I also wanted my audience to know that I have the right tools for the job. Lastly, I wanted to convey my sense of fun. If there was one word I'd use to describe myself it would be fun. I laugh easily, stay relaxed and strive to create an atmosphere where everyone in my circle is filled with energy and having fun. I mean how else do you think I capture all those perfect moments. I think every inquiry I get from my website always includes a statement about how much fun it looked they would have with me, so I think it's a win!
The About Me page on your website should answer all three questions and it should answer them in a way that helps your audience build a connection with you as a person. It is a powerful tool for getting your website to stand out in the online world.