Written By: June Bachman ~ 12/9/2020 9:00:00 AM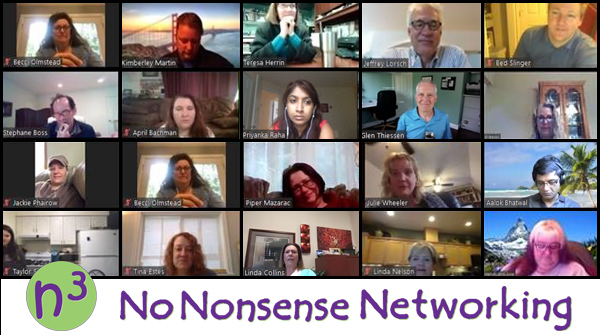 No Nonsense Networking is a business professional networking group in Redmond. We'd love to meet you and learn more about your business! Professional business networking remains one of the best ways to continue to grow your business!
Please be our guest at the December 15th 2020 Meeting!

No Nonsense Networking!
Tuesday Morning 7:30 am – 8:30 am
Email info@bWyse.com to request link to ZOOM MEETING!
No Nonsense Networking is about building relationships that foster business connections.
50% Attendance Standard
$50 Annual Fee
Professionally Exclusive
Visit the meetup link to determine if there is an opening for your professional industry!
We are a professionally exclusive networking group, which means only one member per industry/profession. Here is a list of the current professions of our membership:
Acupuncture
Attorney - Personal Injury, Family, Criminal, Business Law
Chiropractic Care / Massage Therapy
CPA & Quickbooks Training
Digital Playtime Engagement for Kids/Parents
Essential Oils
Event Planning / Hair Salon
Financial Advisor / Life Insurance
General Contractor
Hardscapes / Deck Building
Travel Agency
Interior Design / Color Consulting
Internet Marketing / Web Design / Hosting / Social Media
Mattress Store
Mortgage Broker
Office Assistant / Organizer / Systems/Process Improvements
Personal and Business Banking
Photographer
Promotional Products / Printing
Property, Casualty, Auto Insurance
Realtor
Retail Product Packaging
Here is a list of the professions we would love to be represented in our group. If you are, or if you know of someone who, would love to grow their business via fabulous face to face marketing, and is in one of the following professions - please join us and/or extend and invitation!
Aikido / Martial Arts Dojo
Anti-aging / Skin Care
Automotive Mechanic
Brewery
Business Coach / Consultant
Child Day Care
Clothing Retailer
Dentist
Dog Day Care / Pet Adoption
Educational Tutor
Flower Shop
Furniture Store
Gift Baskets
Home Security System
House Cleaner
HVAC / Heating Professional
IT Computer Support
Jeweler / Retail Jewelery Sales
Laundry Service
Mobile Car Detailer
Mobile Phone Repair
Nail Salon
Naturopath Doctor
News Reporter
Personal Shopper
Personal Stylist
Pet Sitter / Dog Walker
Pizza Restaurant / Delivery
Plumber
Post Office Mailing Service
Private Investigator / Mystery Shopping
Property Management Company
Roof Repair and Replacement
Senior Care Home Placement
Tattoo Artist
Travel & Vacation
Window Cleaner