Facebook Updates Business Page Layout ... AGAIN!
By: June Bachman ~ 12/9/2016 9:00:00 AM
Surprise, surprise ... Facebook has updated the layout design of your Business Pages ... yet again! Here is what you need to know.
Timeline Section
Instead of posting your status updates right at the top of your Facebook Business page timeline, Facebook now posts the following … above your status posts:
This Week Statistics (when you are logged in ad the administrator)
Upcoming Events
Photos
Reviews
Videos
Posts

Most popular listed first
Then your standard recent posts
Left Menu Links
You do have the ability to control the order of the sections, by managing the order of the menu items in your left hand menu (found below your profile photo). To re-order your menu and sections of your timeline, select the Manage Tabs link. You will be directed to a new section of your Facebook Business page settings … where you will be able to make changes.
Note, if you choose to move your posts above your videos and photos tabs, Facebook will display two posts … then your video and photos … then another section for more posts.

Cover Image

The cover images displays smaller … but the guidelines for building a cover image remain the same:
Create a jpg image that is 851pixels wide by 315 pixels tall, and is less than 100 kilobytes big.
Status Update Posts
Facebook has also updated the "Write Something" status post box. Your options displayed here will depend upon your page type and categories you defined when you created your page. Facebook's goal is to help you connect with and engage more with your followers and customers.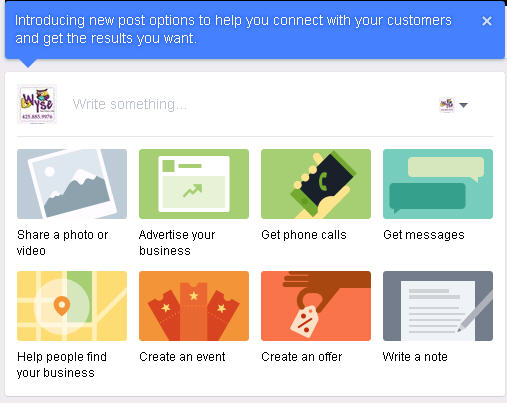 This is just a highlight overview of some of the many changes Facebook has implemented to its design layout for your Business Facebook page. We encourage you to play around a bit with your settings … not only to learn the various options you now have available, but to also improve your layout for customer engagement.

As always, if you have questions, please don't hesitate to call or email us!
---