Tips for Boosting Your Facebook Posts
By: June Bachman ~ 11/4/2016 9:00:00 AM
One of the easiest ways reach more people on Facebook when promoting your products or services is to Boost your post.
Find a post on your page that you would like to boost …
Select the Boost Post blue button.
Facebook automatically creates the ad for you from the content in your post.
Choose who you would like to see your post.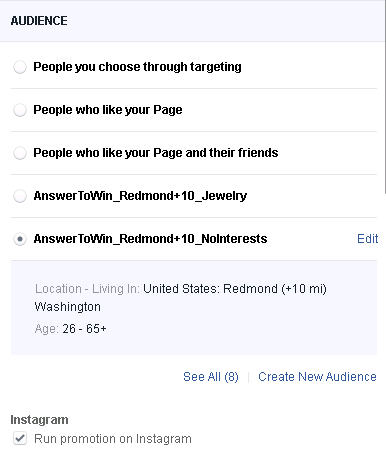 5
Either create an audience - by defining the targeting specifically for this boosted post …. Or
Select one of the audiences you have already created and saved to your Ads Manager.
We selected an audience we had already created - AnswerToWin_Redmond + 10 _ NoInterest
If you've associated your Instagram account to your Facebook you can also run your ads on Instagram.
Choose the budget for your boosted post. Also choose how long you would like your post to be boosted.
Set the Total Budget for your ad. This total amount will be appied over the duration that your ad runs.
Set how long you want your ad to run. The shortest time frame is 1 day.
Track conversions with your Facebook Pixel.
If you have installed a facebook tracking pixel on your website - you can turn on the tracking here.
This will help when you boost link posts that link back to your website or blog.
We encourage you to give it a try! And … as always, if you have any questions, don't hesitate to email or call Wendy … she loves to help!
---