Written By: June Bachman ~ 5/28/2015 9:05:00 AM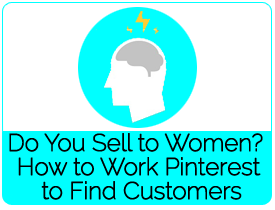 Do you sell to women? If so, then your online marketing strategy MUST include Pinterest! There are currently over 47 million active users on Pinterest … mostly women. The demographic of Pinterest users is primarily women in their 30s to 40s – many with young families. And we all know that Mom is the shopper in most households.
Pinterest is a fantastic platform for small businesses who sell things online. Pinterest allows users to not only follow people and companies, but also to follow specific boards. Whereas Facebook's primary connection goal is the connection of people and information; Pinterest is structured to not only appeal to women, but is focused on goods or products. Pinterest is in a unique position because it supports both "search" and "social" in the same place.
Pinterest is a great way for small businesses to drive more traffic to their websites. Pinterest is only second to Facebook for social media platforms that drive users back to small business websites. In short, Pinterest has become the premier online shopping tool. Businesses that do extremely well on Pinterest include clothing, food and interior design.
If you are interested in learning more about Pinterest, join us for our next FREE workshop!