Written By: June Bachman ~ 1/29/2015 9:00:00 AM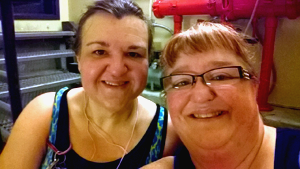 It's all about the MENTAL ... following our
Sunday Morning 40 flight stair climb!
Wendy and I have spent over the past several years working on the continuous goals of physical strength and endurance. And … after filling buckets with sweat, introspection has led us to the understanding that regardless of the goal … it's really about MENTAL strength and endurance; not how much the kettle ball weighs.
Moreover, although our goal was about our physical strength, we realize that many of the following axioms apply directly to the success of our small business as well. Here are just a few of those axioms
You have the power to decide how to view a situation. Especially when the hill appears insurmountable, change how you are looking at it. Instead of looking all the way to the top, find a milestone part-way there. Tackle that part and then continue on. Bit by bit, you'll reach the top. Wendy often recalls one of my favorite questions, "How do you eat an elephant?" The answer is, "One bite at a time." This has rung true very often in our business … whether the challenge was not enough work, or too much work. Rather than being paralyzed by feeling overwhelmed, we determine how we are going to break things down and work through the tasks.
Life happens to everyone … this means you. This also means that both good things and bad things happen to all people. Accepting this fate allows you to put your energies into how you choose to respond to both the good and bad things that occur in life; as opposed to getting stuck in the, "Why me?" place. Sometimes Wendy and I get to spend our time and energy celebrating our successes. And, other times, we have to dig deep to show up, and get the job done … even when we are not feeling it. In the end, you can still accomplish things, even when you'd rather sit in front of the TV, under a fuzzy blanket, with a plate of warm chocolate chip cookies.
Feeling fear is a great and powerful tool. I'm not talking about being "scared to death" when someone is threatening you. I'm talking about that feeling you get when you are scared about embracing an opportunity, or doing something you may not have done before. Wendy and I call this "Scary – Good". Because if you can manage to swallow that fear long enough to embrace the challenge before you, the feeling you ALWAYS have afterwards is a GOOD feeling. You feel great that you did it. Most times the results are never as horrible as you imagined they would be – good things come from repeatedly stepping beyond your comfort zone.
What are the axioms you've discovered as you've embraced entrepreneurship? We'd love to hear about your experiences and the advice you have to share with our readers.