Written By: June Bachman ~ 8/12/2022 9:00:00 AM
Our six-part Facebook series explores many things that you can do to improve the reach of your Facebook posts … ultimately improving your reach and engagement with your online community.
View the previous post:
Facebook Engagement Series - Part #1: Content Posting Strategies
Facebook Targeting of organic posts means getting your posts on the newsfeed of people who are more likely to share, like or comment on your posts. Doing so will help you improve the overall reach, and potential engagement of your Facebook posts. Facebook Targeting is also known as "Organic Post Targeting" and "Preferred Audience Targeting".
Short and Sweet …
If you've done any Facebook Advertising, you know that you are able to define a certain demographic to which you wish to advertise. Simply put, you can also target any of your posts to a specified demographic as well. Some of the variables you can use to narrow your target audience include: Gender Age Relationship status Educational level Location Language Specific interests Day and Time to display post
With targeting, the post will be displayed the same as always, on your Facebook Page. However, the post will only be presented on the newsfeed of those people who match your targeted settings.
NOTE: There needs to be at least 20 people in your Target Audience in order to use this feature. Don't narrow your audience to specifically.
Getting Started …
Before you can target an audience for your posts, you'll need to make sure you've turned on this option in settings.
Log into Facebook Go To: SETTINGS + GENERAL TAB + AUDIENCE OPTIMIZATION FOR POSTS

Select the checkbox and Save Changes
Now, when you are creating a status post, you are able to select the target icon (it's hard to see).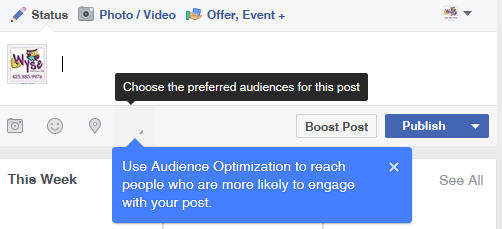 And, a popup window will appear, where you can define the audience characteristics for your post. Select the AUDIENCE RESTRICTIONS tab, and choice your audience demographics.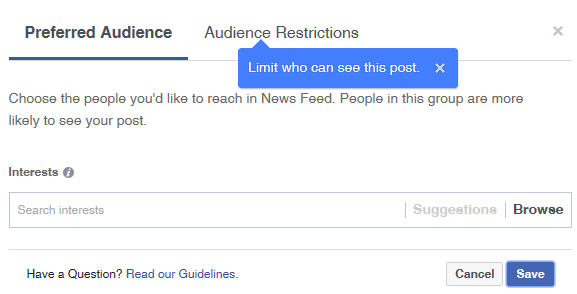 Final Thoughts …
When you don't target your audience, you are telling Facebook to target all of the fans of your Facebook page. When this occurs, the engagement levels and reach are far lower. Instead, by targeting your posts to your audience, you increase the likelihood that your post will be viewed by the most interested people. Subsequently, more interested viewers are more likely to engage, comment, like and share your post with others.